Are your high school students looking for something
to do during winter break?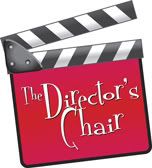 Ask a Librarian's The Director's Chair contest is well underway, but we still need your help to promote it! With winter break quickly approaching, your students will have some free time to fill up. This is the perfect time to promote The Director's Chair to them.
We are asking Florida high school students to flaunt their directorial skills by creating a 30-second video about Ask a Librarian and uploading it to YouTube by Jan. 18, 2008, for the chance to win some awesome prizes.
In order for The Director's Chair to be a success, we need YOU! Please let teens in your community know about the contest. We've posted some information here that you are welcome to copy and paste into your own teen blog.
We also have flyers available as a PDF (here) or a JPG (here). Or feel free to post the contest logo (available here) on your website.
This is a great chance to get our students involved in Ask a Librarian. We hope you're as excited by the contest as we are, and we thank you for promoting The Director's Chair!
Visit www.askalibrarian.org/thedirectorschair for more information, including prizes, official rules, YouTube submission info and release forms.
Tell your teens about The Director's Chair