Membership
TBLC and its member libraries work to encourage collaboration, resource sharing, staff development, and innovations to ensure that the people of central Florida receive excellent, up-to-date library services and have access to the world of information. Libraries in Citrus, DeSoto, Glades, Hardee, Hernando, Highlands, Hillsborough, Indian River, Lake, Manatee, Okeechobee, Orange, Osceola, Pasco, Pinellas, Polk, Sarasota and Saint Lucie counties can be members of TBLC.
Membership in the Consortium can be as a full member or an associate member. Full members are held to the TBLC Membership criteria and are governing members of the Consortium. Associate membership entitles a library or group of libraries to limited membership benefits with the opportunity for TBLC staff to assist the library in reaching full member status.
When a new library applies for membership in TBLC their membership application is presented to the TBLC Board of Directors for approval at one of their bi-monthly meetings. If approved, this applicant is given provisional membership pending the next TBLC Annual Meeting. At the TBLC Annual Meeting, held in November of each year, the full membership votes on approval of all provisional members. Once approved at the Annual Meeting a provisional member becomes a member of TBLC. Choose a membership below.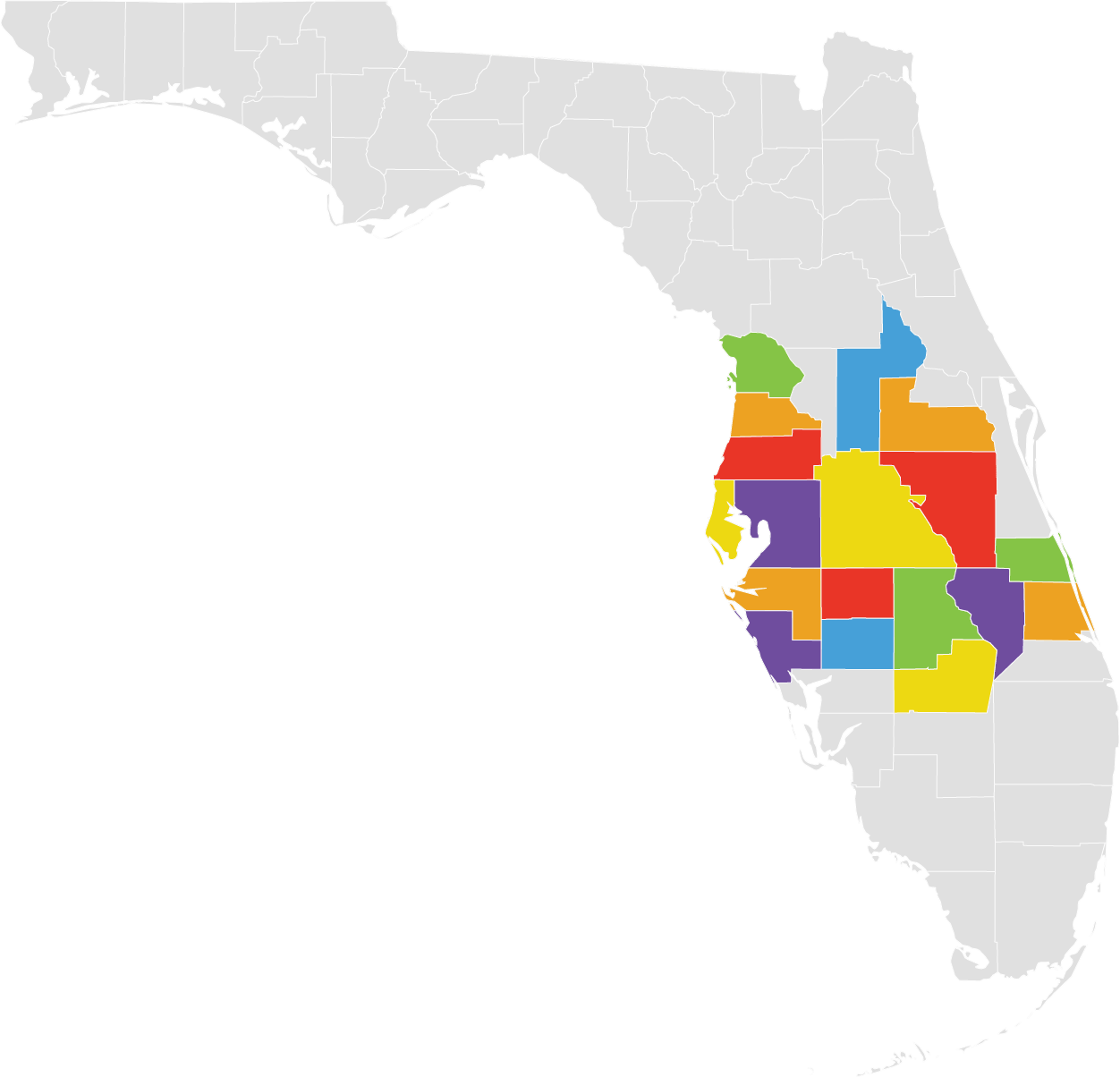 To qualify for full membership, libraries must meet the membership criteria:
Member libraries are encouraged to participate in the Florida Interlibrary Loan Network (FLIN) to provide information and materials to Florida library users and to maintain their bibliographic records in the Florida Catalog, OCLC WorldCat.
Member libraries have at least one full-time person with a degree in library and information science or experience in library administration.
Member libraries have materials and services sufficient to meet minimum needs of their clientele.
Dues are based upon expenditures in previous fiscal year. Surveys are conducted periodically. TBLC annually determines if there has been a change in status. Official statistical reports and surveys are used to determine expenditures in the most recently completed fiscal year.
Dues Schedule:  
(Effective October 2012)
Special Library, Individual School Library, all other libraries with budgets under $100,000:
$500
$100,000 – $749,999:
$600
$750,000 – $1,499,999:
$750
$1,500,000 – $2,999,999:
$1,000
$3,000,000 – $4,999,999:
$1,250
$5,000,000 – $9,999,999:
$1,500
Over $4,999,999:
$2,500
A vote of the full members at the TBLC Annual Meeting in November is required to change the dues schedule. Changes are implemented in the following fiscal year, beginning the next October.
TBLC members include state colleges and state university system libraries, private academic schools, colleges and universities, public school systems, and public and special libraries. Together these libraries serve over 6.3 million Floridians in central Florida, or over a third of Florida's population, in 18 of Florida's 67 counties; Citrus, Desoto, Glades, Hardee, Hernando, Highlands, Hillsborough, Indian River, Lake, Manatee, Okeechobee, Orange, Osceola, Pasco, Pinellas, Polk, Sarasota, and Saint Lucie
Last page edit (Aug 1 2023)
Library Name
Address
Contact Name
Phone
Email
Website
Adventhealth University
671 Winyah Dr, Orlando, FL 32803
Neal Smith Jr.
407-303-1851
neal.smith@ahu.edu
Website URL
Anton Brees Carillon Library at Bok Tower Gardens
1151 Tower Blvd. Lake Wales, FL 33853
863-734-1227
library@boktower.org
Website URL
Auburndale Public Library
100 W Bridgers Ave, Auburndale, FL 33823
Kristal Holmes
863-965-5548
kholmes@auburndalefl.com
Website URL
Barry University School of Law Library
6441 E Colonial Dr, Orlando, FL 32807
Whitney Curtis
321-206-5703
wcurtis@barry.edu
Website URL
Bartow Public Library
2150 S. Broadway Ave. Bartow, FL 33830
Christina Hielscher
863-534-0131
christina.hielscher@mypclc.info
Website URL
Bay Pines Veterans Hospital Medical Library
10000 Bay Pines Blvd. Bay Pines, FL 33744
Diana Akins
727-398-9366
diana.akins@med.va.gov
Website URL
Bruton Memorial Library
302 W McLendon St, Plant City, FL 33563
Paul Shaver
813-757-9215
pshaver@plantcitygov.com
Website URL
Citrus County Library System
425 W. Roosevelt Blvd. Beverly Hills, FL 34465
Adam Chang
352-746-9077
Adam.chang@citruslibraries.org
Website URL
Clearwater Public Library System
100 N Osceola Ave. Clearwater, FL 33755
Jennifer Obermaier
727-562-4970
jennifer.obermaier@myclearwater.com
Website URL
Dali Museum Library
1 Dali Blvd. St. Petersburg, FL 33701
Shaina Buckles Harkness
727 896-2667
sbuckles@thedali.org
Website URL
DeSoto County Library
125 N. Hillsborough Avenue. Arcadia, FL 34266
Linda Waters
863-993-4851
lindaw@myhlc.org
Website URL
Dundee Public Library
202 East Main Street Dundee, Florida 33838
Vivian Godfrey
863-439-9424
vgodfrey@townofdundee.com
Website URL
Dunedin Public Library
223 Douglas Ave. Dunedin, FL 34698
Phyllis Gorshe
727-298-3080
pgorshe@dunedinfl.net
Website URL
Eagle Lake Public Library
75 N 7th St, Eagle Lake, FL 33839
Kathleen Gallagher
863-293-2914
kgallagher@eaglelakefl.gov
Website URL
East Lake Public Library
4125 E Lake Rd S, Palm Harbor, FL 34685
Lois Eannel
727-773-2665
lois-e@eastlakelibrary.org
Website URL
Eckerd College Library
4200 54th Ave S, St. Petersburg, FL 33711
Lisa Johnston
727-864-8206
johnstln@eckerd.edu
Website URL
Elling Eide Center Research Library and Preserve
8000 South Tamiami Trail Sarasota, FL 34231
Georgia Hudson
941-893-4703
ghudson@ellingoeide.org
Website URL
Eustis Memorial Library
120 N Center St, Eustis, FL 32726
Anne Ivey
352-357-5686
iveya@ci.eustis.fl.us
Website URL
Everglades University Library
5225 Memorial Hwy, Tampa, FL 33634
Adam Brody
407-277-0311
abrody@evergladesuniversity.edu
Website URL
Fish and Wildlife Research Institute
100 8th Ave SE
St. Petersburg,
Fl 33701
Robin Grunwald
727-896-8626
robin.grunwald@myfwc.com
Website URL
Florida A&M University College of Law Library
201 Beggs Avenue Orlando FL 32801
Yolanda Jones
407-254-3289
yolanda.jones@famu.edu
Website URL
Florida College Library
119 N Glen Arven Ave, Temple Terrace, FL 33617
Jennifer Kearny
813-899-6777
kearneyj@floridacollege.edu
Website URL
Florida Polytechnic University
4700 Research Way, Lakeland, FL 33805
Katheryn Miller
863-583-9050
kmiller@floridapolytechnic.org
Website URL
Florida Southern College Library
111 Lake Hollingsworth Dr, Lakeland, FL 33801
Randall MacDonald
863-680-4164
rmacdonald1@flsouthern.edu
Website URL
Fort Meade Public Library
75 E Broadway St, Fort Meade, FL 33841
Kylie Shortt
863-285-8287
kshortt@cityoffortmeade.com
Website URL
Full Sail University
3300 University Blvd. Winter Park, FL 32792
Stephanie Maata-Smith
407-679-6333
smaatta@fullsail.com
Website URL
Glades County Public Library
201 Riverside Dr, Moore Haven, FL 33471
Mary Booher
863-946-0744
mbooher@myhlc.org
Website URL
Gulf Beaches Public Libary
200 Municipal Dr, Madeira Beach, FL 33708
Vince Gadrix
727-391-2828
librarydirector@zoho.com
Website URL
Gulfport Public Library
5501 28th Ave S, Gulfport, FL 33707
David Mather
727-893-1074
dmather@mygulfport.us
Website URL
Gwinnett Institute-Orlando
1900 N. Alafaya Trail Suite 100 Orlando, FL 32826
Mitchell L. McClay
407-434-8700
Please Call
Website URL
H. Lee Moffitt Cancer Center Library
12902 Magnolia Drive, Tampa, FL 33612
Susan Sharpe
813-745-6415
susan.sharpe@moffitt.org
Website URL
Haines City Public Library
111 N 6th St, Haines City, FL 33844
MaryEllin Barrett
863-421-3633
mbarrett@hainescity.com
Website URL
Hardee County Public Library
315 N 6th Ave, Wauchula, FL 33873
Dee Shackelford
863-773-6438
dee@myhlc.org
Website URL
Heartland Library Cooperative
206 SW 16th St
Okeechobee, FL 34974
Kresta King
863-763-3536
kresta@myhlc.org
Website URL
Heritage Village Archives and Library
11909 125th Street N. Largo, FL 33774
Monica Drake
727-582-2128
mmdrake@co.pinellas.fl.us
Website URL
Hernando County Public Library
238 Howell Ave, Brooksville, FL 34601
Cynthia Loftis-Culp
352-754-4043
CLoftis-Culp@co.hernando.fl.us
Website URL
Highlands County Public Library
319 W Center Ave, Sebring, FL 33870
Vikki Brown
863-402-6716
vikki@myhlc.org
Website URL
Hillsborough Community College Library
Ybor City Campus
2112 N 115th Street
Tampa, FL 33605
Adonis Amparo
813-253-7613
aamparo2@hccfl.edu
Website URL
Hillsborough County Public Library Cooperative
102 E 7th Ave, Tampa, FL 33602
Andrew Breidenbaugh
813-273-3652
breidenbaugha@hillsboroughcounty.org
Website URL
Hillsborough County Public Schools
Library Technical Services
901 East Kennedy BoulevardTampa, FL 33602
Lisa Weaver
813-840-7050
lisa.weaver@hcps.net
Website URL
Indian River County Public Library
1600 21st St, Vero Beach, FL 32960
Tracey Wehking
772-770-5060
twehking@irclibrary.org
Website URL
Indian River State College Library
3209 Virginia Ave
Fort Pierce, Fl 34981
Mia Tignor
772-462-7600
mtignor@irsc.edu
Website URL
Indian Rocks Beach Public Library
1507 Bay Palm Blvd, Indian Rocks Beach, FL 33785
Lee Miller
727-596-1822
lmiller@irbcity.com
Website URL
Jane Bancroft Cook Library New College of Florida & USF at Sarasota Manatee
5800 Bay Shore Rd, Sarasota, FL 34243
Tammera Race
941-487-4401
libraryadmin@ncf.edu
Website URL
John and Mable Ringling Museum of Art Library
5401 Bay Shore Rd, Sarasota, FL 34243
Elisa Hansen
941-359-5700, ex. 2703
elisa.hansen@ringling.org
Website URL
Keiser University (Lakeland)
2400 Interstate Dr, Lakeland, FL 33805
Elizabeth Kolbe
863 - 682-6020
elikolbe@keiseruniversity.edu
Website URL
Keiser University (Sarasota)
6151 Lake Osprey Drive
Sarasota, Florida
34240
Abby Arlene
866-534-7372
agilman@keiseruniversity.edu
Website URL
Lake Alfred Public Library
245 N. Seminole Avenue Lake Alfred, FL 33850
Linda Hitchcock
863-291-5378
lhitchcock@mylakealfred.com
Website URL
Lake County Library System
2401 Woodlea Rd, Tavares, FL 32778
George Taylor
352-253-6180
george.taylor@mylakelibrary.org
Website URL
Lake Sumter State College
9501 US-441, Leesburg, FL 34788
Kathleen Sacco
352-787-3747
SaccoK@lssc.edu
Website URL
Lake Wales Public Library
290 Cypress Garden Ln, Lake Wales, FL 33853
Belle Reynoso
863-678-4004
breynoso@lakewalesfl.gov
Website URL
Lakeland Public Library
100 Lake Morton Dr, Lakeland, FL 33801
Lisa Lilyquist
863-834-4280
lisa.lilyquist@lakelandgov.net
Website URL
Largo Public Library
120 Central Park Dr, Largo, FL 33771
Casey McPhee
727-587-6715
librarydirector@largo.com
Website URL
Latt Maxcy Memorial Library
15 N Magnolia Ave, Frostproof, FL 33843
Missy Hadden
863-635-7857
mhadden@cityoffrostproof.com'
Website URL
Leesburg Public Library
100 E Main St, Leesburg, FL 34748
Lucy Gangone
352-728-9790
lucy.gangone@leesburgflorida.gov
Website URL
Maitland Public Library
501 Maitland Ave S, Maitland, FL 32751
Stacie Larson
407-647-7700
slarson@maitlandpl.org
Website URL
Manatee County Public Library System
1301 Barcarrota Boulevard West Bradenton, FL 34205
Tammy Parrott
941-748-5555 x6325
tammy.parrott@mymanatee.org
Website URL
Mote Marine Laboratory Library
1600 Ken Thompson Pkwy, Sarasota, FL 34236
Jaime Fogel
941-388-4441
library@mote.org
Website URL
Mulberry Public Library
905 NE 5th St, Mulberry, FL 33860
Cheri Schisler
863-425-3246
cschisler@cityofmulberryfl.com
Website URL
New Port Richey Public Library
5939 Main St, New Port Richey, FL 34652
Andrea Figart
727-853-1279
libdir@nprlibrary.org
Website URL
Okeechobee Public Library
206 SW 16th St, Okeechobee, FL 34974
Kresta King
863-763-3536
kresta@myhlc.org
Website URL
Oldsmar Public Library
400 St. Petersburg Drive East, Oldsmar FL 34677
Susan Hurley
813-749-1178
shurley@myoldsmar.com
Website URL
Osceola County Public Library System
211 E Dakin Ave, Kissimmee, FL 34741
Amy Jones Lee
407-742-8888
amy.jones@osceolalibrary.org
Website URL
Palm Harbor Public Library
2330 Nebraska Ave, Palm Harbor, FL 34683
Gene Coppola
727-784-3332
Gene@phlib.org
Website URL
Pasco County Public Library System
8012 Library Road Hudson, FL 34667
Sean McGarvey
727-861-3040

smcgarvey@pascolibraries.org
Website URL
Pasco-Hernando State College
10230 Ridge Road, New Port Richey, FL 34654
Ingrid Purrenhage
727-816-3418
purreni@phsc.edu
Website URL
Pinellas Park Public Library
7770 52nd St N, Pinellas Park, FL 33781
Angela Pietras
727-369-0669
apietras@pinellas-park.com
Website URL
Pinellas Public Library Cooperative
1330 Cleveland St, Clearwater, FL 33755
Cheryl Morales
727-441-8408
cmorales@pplc.us
Website URL
Polk City Library
215 S Bougainvillea Ave, Polk City, FL 33868
Suzette Penton
863-984-4340
Suzette.penton@mypolkcity.org
Website URL
Polk County Historical & Genealogical Library
100 E. Main Street Bartow, FL 33830
Jayme Jamison
863-534-4380
JaymeJamison@polk-county.net
Website URL
Polk County Law Library
255 N Broadway Ave, Bartow, FL 33830
Amanda Horton
863-534-4013
ahorton@jud10.flcourts.org
Website URL
Polk County Library Cooperative
2150 S. Broadway Avenue Bartow, FL 33830
Gladys Roberts
863-519-7958
robertg@mypclc.org
Website URL
Polk State College
3425 Winter Lake Rd.
Lakeland, FL 33803
Courtlann Thomas
863-297-1042
cthomas@polk.edu
Website URL
Ringling College of Art Library
2700 N. Tamiami Trail Sarasota, FL 34234-5895
Claire Powell
941-359-7582
cpowell3@c.ringling.edu
Website URL
Rollins College - Olin Library
1000 Holt Ave -2744
Winter Park, FL 32789
407-646-2521
askolinlibrary@rollins.edu
Website URL
Safety Harbor Public Library
101 2nd St N, Safety Harbor, FL 34695
Lisa Kothe
727-724-1525
lkothe@pplc.us
Website URL
Saint Leo University Library
33701 FL-52, St Leo, FL 33574
Doris Van Kampen-Breit
352-588-8476
library@saintleo.libanswers.com
Website URL
Sarasota County Libraries& Historical Resources
6062 Porter Way, Sarasota, FL 34232
Renee DiPilato
941-861-5420
rdipilato@scgov.net
Website URL
Seminole Community Library
9200 113th St N, Seminole, FL 33772
Michael Bryan
727-394-6905
mbryan@ci.seminole.fl.us
Website URL
South Florida State College Library
600 W College Dr, Avon Park, FL 33825
Lena Phelps
863-784-7303
Lena.Phelps@southflorida.edu
Website URL
Southeastern University Library
1000 Longfellow Blvd, Lakeland, FL 33801
Amy Harris
863-667-5089
ajharris@seu.edu
Website URL
St. Lucie County Library System
101 Melody Lane, Fort Pierce, Fl 34950
Robyn Saint-Paen
772-462-1615
saintr@stlucieco.org
Website URL
St. Pete Beach Public Library
365 73rd Ave, St Pete Beach, FL 33706
Betcinda Kettels
727-363-9238
bkettells@stpetebeach.org
Website URL
St. Petersburg College Libraries
13805 58th St N, Clearwater, FL 33760
Matthew Bodie
727-791-2415
Bodie.Matthew@spc.edu
Website URL
St. Petersburg Public Library
3745 9th Ave N, St Petersburg, FL 33713
Library Closed - In process of remodeling
Please call
Website URL
State College of Florida Manatee-Sarasota
Bradenton Campus, Bld. 3
5840 26th Street West
Bradenton, FL 34207
Meg Hawkins
941-752-5307
hawkinm@scf.edu
Website URL
Stetson University College of Law Library
1401 61st St S, Gulfport, FL 33707
Roy Balleste
rballeste@law.stetson.edu
Website URL
Sumter County Library System
7375 Powell Road
Suite 100
Wildwood, FL 34785
Lisa Taylor
352-689-4400
lisa.taylor@lssi.com
Website URL
Tarpon Springs Public Library
138 East Lemon Street, Tarpon Springs, FL 34689
Cari Rupkalvis
727-943-4922
crupkalvis@ctsfl.us
Website URL
Temple Terrace Library
202 Bullard Pkwy. Temple Terrace, FL 33617
Teressa Fraser
813-506-6770
tfraser@templeterrace.com
Website URL
University of South Florida - St. Petersburg Library
140 7th Ave S, St. Petersburg, FL 33701
Kaya van Beynen
727-873-4626
kayatown@usf.edu
Website URL
University of South Florida - Tampa Library
4101 USF Apple Drive
Tampa, FL. 33602
Todd Chavez
813-974-2729
tchavez@usf.edu
Website URL
University of South Florida School of Information
4202 E Fowler Avenue, CIS 2011
Tampa, Florida 33620-7800
Dr. Randy Borum
813-974-3520
wborum@usf.edu
Website URL
University of Tampa Library
401 W Kennedy Blvd, Tampa, FL 33606
Alisha Miles

(813) 257-3402

alishamiles@ut.edu
Website URL
Valencia College Libraries
1800 S Kirkman Rd
Orlando, FL 32811
Ruth Smith (West Campus)
407-582-1574
rsmith257@valenciacollege.edu
Website URL
Warner University Library
13895 Highway 27, Lake Wales, FL 33859
Sherill L. Harriger
863-638-7235
harrigers@warner.edu
Website URL
Winter Haven Public Library
451 Third St. NW, Winter Haven, FL
Jane Martin
863-291-5880
jmartin@mywinterhaven.com
Website URL
Winter Park Library
1052 W. Morse Blvd.,
Winter Park, Fl 32789
Melissa Schneider
407-623-3490
mschneider@winterparklibrary.org
Website URL
Zephyrhills Public Library
5347 8th Street, Zephyrhills, FL 33542
Peggy Panak
813-780-0064
ppanak@ci.zephyrhills.fl.us
Website URL