Florida Library Delivery Service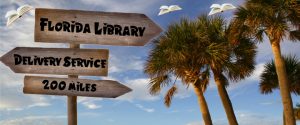 All Florida libraries that are members of FLIN are eligible to participate in the Florida Library Delivery Service, which provides pickup and delivery of interlibrary loan materials among over 200 libraries throughout Florida.
For support, to request bags and to report missed deliveries, please use the form at the bottom of this page
Labels
For a full search page, or full list of participants, go to  Address Labels to be Printed from Entire List of Libraries

The Florida Library Delivery Service is funded under the provisions of the Library Services and Technology Act, from the Institute of Museum and Library Services, administered by the Florida Department of State's Division of Library and Information Services.

4042 Park Oaks Blvd. Suite 430 Tampa, Fl 33610 813-622-8252
Click on our address to see us on a map.