The Atlantic Coast Theatre is dedicated to bringing the art of theatre to children and families.
Contact Info:
Don Gruel (863) 242-8656
Email- shows@atlantic-coast-theatre.com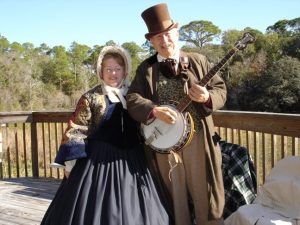 Backintyme makes history come alive. We don period dress to perform stories and songs of the 19th century. Each performance piece consists of an anecdote drawn from historical research, interwoven with a related song of the time. The stories tell what folks did and thought back then — their acts and ideas. They form the source of our knowledge of the past. The songs reveal what they felt — their emotions. They weave the fabric of our understanding.

Contact info:
Mary Lee Sweet (386) 439-9413
Email- MLSweet@backintyme.com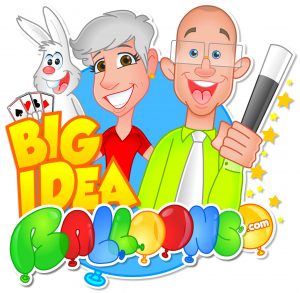 Our shows features lots of audience participation. Since this is a magic show for libraries, we'll make sure to reference various children's books to promote your library and encourage reading in a fun and entertaining manner.
Contact Info:
Keith Tusing (407)-388-8783
Email-keith@cmbuzz.com
Bucky and Gigi Show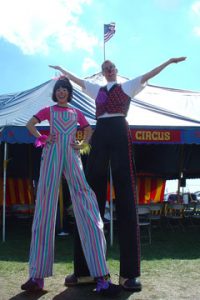 From the backyard to the ballroom….. center court to the center ring….. these two former Ringling Bros. and Barnum & Bailey Circus Clowns will amaze and amuse… dazzle and delight – using Physical Comedy, Circus Skills, Mime, Magic Improvisation, and Audience Participation!
Contact Info: 
Gina Allison (407)-601-2917
Email- ginaalayne1@gmail.com
Amazing Magic Shows full of Laughter and Illusions!
Unique – Funny – Energetic – Amazing.
Professional magician Cesar Domico with over 25 years of experience. The show is dynamic and full of humor and participation by kids — and adults — who get to perform magic tricks with Cesar!
For your event to be Amazing it needs to be Magical!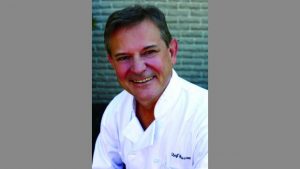 An introduction to cooking for two that's filled with dozens of kitchen tips and cooking hints and culminates with a cooking demonstration that anyone can replicate at home in under 10 minutes. (Just one of 11 presentations that Chef Warren offers).
Contact Info:
Chef Warren Caterson (904) 704-1710
Email- Booking@ChefWarrenCaterson.com
The Circus Dog Show by Menestrelli Entertainment
The Circus Dog Show by Menestrelli Entertainment is a traveling special Dog Show with 10 funny and very entertaining dogs. These dogs are amazing! They know how to climb stairs, perform somersaults, and other uniquely designed family tricks. Our show is 45 minutes long and will ensure you have a unique, fun and memorable event!
Our fluffy artists also interact with the audience during the show. After the show, our funny dogs will pose with your guests for a photoshoot (using your cameras). The photoshoot is always a really fun and positive experience with the animals!
Contact Info: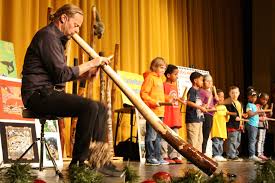 Australian music, education, motivation, and entertainment!
Contact Info:
Darren Liebman (813) 961-4656
Email- darren@didgedownunder.com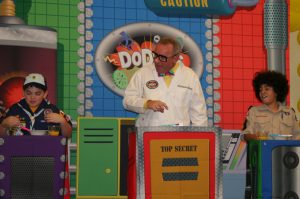 DoDad's Lab is a live, interactive science program that combines colorful props, wacky science experiments, comedy, puppetry, reading and science education.
Contact Info: 
Darren Casteel
Email- darren@dodadslab.com
A historical journey of French music.
Contact Info: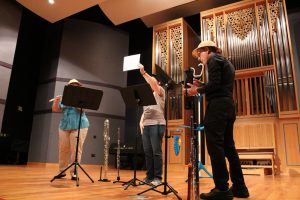 (407) 451-0029
eclectiqueproductions@gmail.com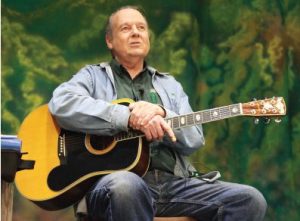 In this dramatic theatrical production of Carter Stanley's life, actor, musician, and writer Gary Reid becomes Carter Stanley. A storyteller, bluegrass veteran, and the foremost authority on the Stanley Brothers, Gary affords today's bluegrass and old-time music fans a chance to visit and reminisce with Carter Stanley.
Contact Info:
Gary Reid (540) 982-6900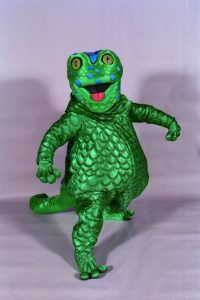 Costumed Gecko teaches multicultural dances, breakdances, and promotes reading.
Contact Info:
(954) 924-0218
Email- geddythegecko@juno.com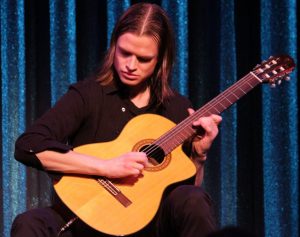 Determined to entertain as well as inspire audiences of all ages, this award-winning 'musical mad-scientist explores a multi-cultural mixture of musical styles, and demonstrates the art of perseverance—the guitarist has prevailed over a crippling case of nerve damage which could have easily ended a musician's career…inspired by the great composers, Spanish guitar maestros, and much more, this musical mad scientist fuses the elements into a refreshing formula—evoking the Spanish spirit, yet distinctly unorthodox.
Contact Info: 
(404) 372-0007
Email- gladiusbooking@gmail.com
Jane Rosenbohm: Guitar Extraordinaire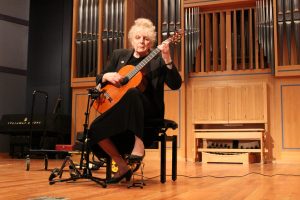 Guitar program about the brain and music, including a free guitar to be given away.
Contact Info:
804-300-6004
Email- janeguitar@outlook.com
Storytelling, magic, and impromptu comedy and a special appearance from ChaChing the Amazing Bunny!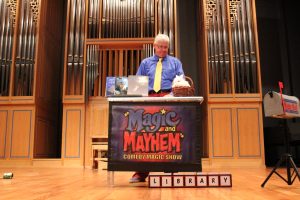 Contact Info: 
(407) 222-4412
Email: james@magicandmayhemshow.com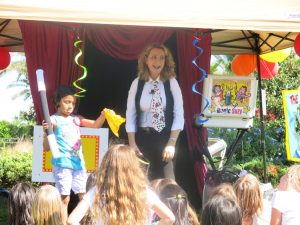 A funny, amazing, age appropriate comedy magic show that will entertain kids, parents, and seniors. show is 30 minutes long which is typically just right for the little ones. The format really works well and you get a great variety of age appropriate entertainment, including interactive magic tricks, physical comedy, mind reading monkey puppet  and upbeat background music.
Contact Info: 
(805) 636-7163
Email: suzyseth@icloud.com

Miz Daisy is Central Florida's leading authority in children's entertainment!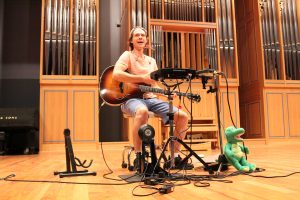 A 40 minute musical performance for children.  I play 10+ instruments (including guitar, mandolin, violin, flute, piano and more), performing popular sing-a-longs as well as a couple of fun originals.  I also utilize some percussion instruments in a one-man-band style.
Tampa Bay sensation MR. TOMMY will make children dance and sing as they enjoy sing-a-long songs brought to life by this masterful entertainer, storyteller and musician. Mr. Tommy's unique, exciting, interactive program gets children off their feet and encourages them to build their self-esteem and imagination.
Music with Mar was founded in 1993 when her daughter Gioia, was 3 years old. Before then, she was a music teacher for K-8. Her passion for getting parents to value the importance of music in their children's lives inspired her to create the program and the supportive music and activities.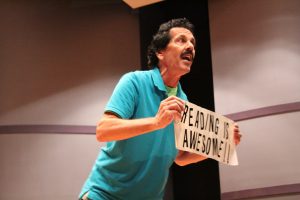 Awesome Comedy Magic & Balloon Reading Adventure Shows
Contact Info:
James & Lori Chartier (941) 475-2566
Email: showtimeforkids@showtimeforkids.com
Marc Black's History of the 1950s and 60s through popular song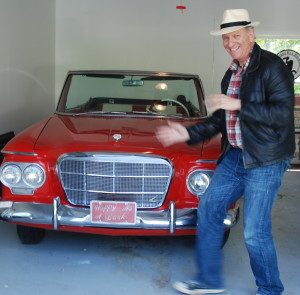 Join New York Blues Hall of Fame inductee, Marc Black, for a musical multi-media tour through these two historically defining decades.  You'll sing along with wonderful songs as diverse as Itsy Bitsy, Teeny Weeny Yellow Polka -Dot Bikini and Blowin' in the Wind; by artists ranging from Gene Autry to George Harrison.  Marc will also perform his own group's top forty hit from 1967.
Contact Info: 
Marc Black (914) 760-7460
Email: marcblackmusic@gmail.com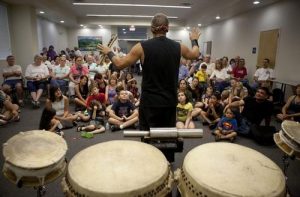 After a fun-filled performance that covers the history of taiko and the music of Japan, all attendees are offered the opportunity to play on our big drums.
Contact Info:
(727) 531-7999
Email: tampataiko12@gmail.com