TBLC

 2018 Legislative 

Champion

 

Awards 

Announced

The Tampa Bay Library Consortium (TBLC) is pleased to announce that Senator Jeff Brandes is one of the recipients of the 2018 Library Champion Awards. These honorees were nominated by library leaders from TBLC's 18 county region and as community leaders who have demonstrated exceptional support for library programs.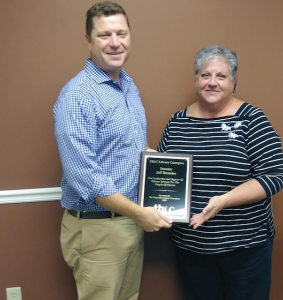 PPLC Executive Director Cheryl Morales presenting Senator Brandes with his award
Since his election in 2012 the Senator has taken a lead role in helping his colleagues in the legislature see the value of libraries, the innovative things they're doing, and their potential do more. This year he played a major role in securing a $750,000 appropriation for the Smart Horizons Online High School Library program that enables libraries to help older students earn high school diplomas.
In 2013 the Senator filed a bill that would have created a library innovation grant program that would have been administered by the Florida Division of Library and Information Services. In 2017 he successfully proposed that the Legislature include $3 million in the budget for the innovation program that was passed only to be vetoed. He had planned to seek that funding again but the tragic Parkland School tragedy brought critical needs for improved school safety to the legislature's attention that required significant funding.
This is the fourth time Senator 
Brandes
 is being honored with this award. Senator 
Brandes
 was nominated by Cheryl Morales, Executive Director of the Pinellas Public Library Cooperative.
TBLC 2018 Library Champion Awards: Senator Jeff Brandes